Add Instant Charm to Any Room with A Wood-Clad Ceiling
Wood is a popular surface material for floors and walls. But it can make a big statement if you use it on the ceiling. Here are five types and methods for consideration.
1. Reclaimed and Distressed
Reclaimed and distressed wood planks have been popular in interiors for years now. True recycled wood has a one-of-a-kind charm to it, especially if you know the story behind all of those scrapes, dings and dents. Prized for its warm and rustic character, it works well as a ceiling cladding in a variety of interiors, from contemporary to traditional.
Material cost: Prices vary widely, depending on species and provenance, but expect to spend anywhere from $5 to $20 and up per square foot. (Labor and installation will add to the cost of all materials mentioned in this article.)
2. Plywood
If your budget is tight and your tastes run contemporary, go for a finished plywood ceiling. It can really warm up an otherwise sleek and minimalist space. A glossy finish can also help bounce light around a room.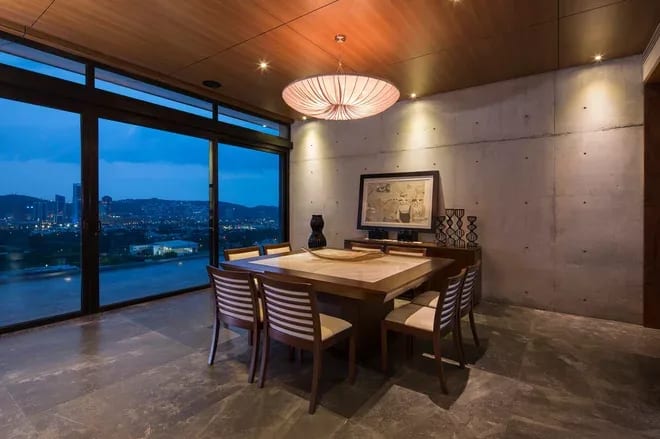 Contemporary Dining Room by rdlp arquitectos
Plywood, as well as veneered particleboard and MDF, are available in a variety of grades and finishes, many of which can be successfully stained to achieve your desired look. A veneer with a simple grain pattern adds subtle texture to this contemporary dining room.

Material cost: From $1 to $2.50 per square foot.
3. Tongue and Groove
These tongue-and-groove wood planks have a smooth surface and a nice linear quality, which can help elongate a room.
For a charming cottage-y feel, install tongue-and-groove boards with the beveled edge facing out. Here the boards on the wall are painted white, which helps the ceiling planks to really stand out.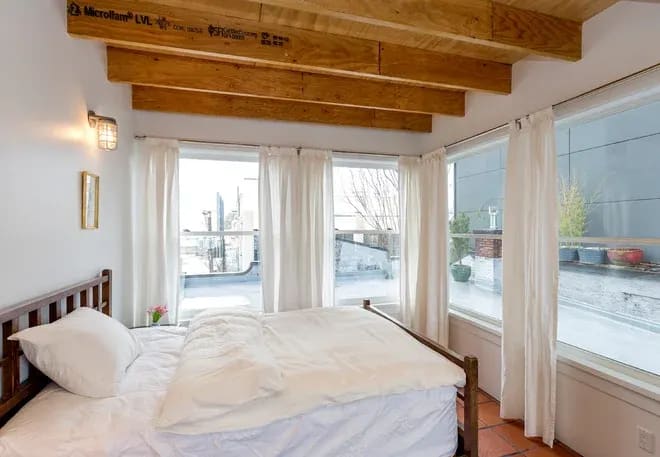 Industrial Bedroom by Crescent Builds
4. Logs and Beams
Another way to showcase wood on the ceiling is to expose your ceiling joists. Just be aware that there are often lots of unattractive wires, conduit, pipes and so on nestled up there, so you'll need a strategy for hiding those.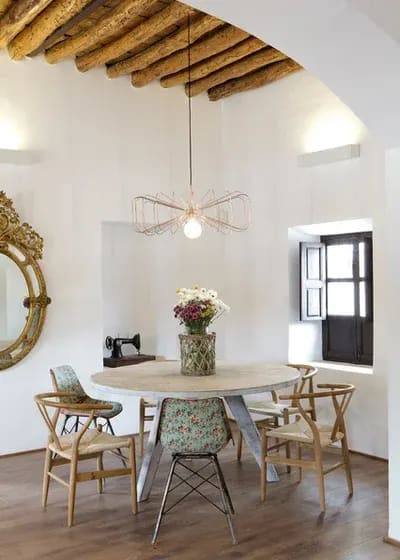 Mediterranean Dining Room by Colectivo Verbena
Material cost: Typically around $3 to $7 per square foot.
5. Porches
Wood ceilings need not be limited to indoor spaces. A wood-clad porch ceiling has a wonderfully cozy and inviting feel. Just be sure to use a material that can withstand exterior temperature and humidity levels, such as cedar or cypress.
Material cost: From about $5 to $15 per square foot, depending on material and region.

One last tip, If you opt for a variety of woods in a space — wood floors, furniture, and ceiling: Think about whether you want the woods to match exactly, or make them very different from one another. If they are somewhat similar but not an exact match, it can look like you tried and failed to make a match. This space uses a variety of wood types and colors, which keeps it from having a monotone look.

Your turn: How have you used wood elements to dress up your ceiling?